2 November 2012: ordering a Hymer Exsis i614 at Campirama (Kortrijk, Belgium)
During Mobicar 2012 we visited the Burstner exhibition to have a look at the model Aviano i739G (containing a cross placed bed above a large garage). Unfortunately this motorhome turned out to be larger and heavier than our current motorhome, the Burstner Aviano i684 (7,10 meter versus 6,99 meter)
Also the interesting alternative, a semi-integrated model (Ixeo-IT710G), including all options, turned out to be a little to heavy.
The new motorhome had to suffice on a number of demands:
Shorter than

7 meters.
Garage.
Preferably an integrated model
Maximum 3,5 Ton, but with a decent amount of cargo loading possibilities.
Rather by accident we ended up by Hymer and we noticed the Exsis series. These appeared to be real light weight motorhomes. Soon enough the Exsis i614 appeared to suffice our demands.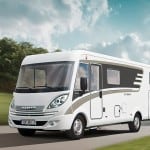 In comparison with our Burstner Aviano i684 the wife had to make some sacrifices because the Exsis doesn't have an L-kitchen and the bathroom is also a bit smaller. This is not so odd because the total length of the Exsis i614 is 6,75 meter against the 6,99 meter from our Burstner Aviano i684. Also the width of the Exsis is approximately 13 centimeters smaller than the Aviano i684. Not too much in centimeters, but yet it makes a world of difference. On 2 November 2012 the final decision was made and at Campirama in Kortrijk (Belgium) we ordered a Hymer Exsis i614 (this is the version with the cross mounted bed over a large garage) powered by a Fiat 2.3cc 130HP strong engine. Next to a large list of basic option, we added the following items to the list:
Sog toilet vent
External gas socket with shutoff tap
Foglights.
Truma Combi 6 gas heating with 1800 W electric bar heater
Aluminium rims
Aguti Ergoflex pilot seats in living area fabric, swivel, height und tilt adjustable
Security locks on all doors
Insulating glazing for driver's cabin side windows and driver's door
Radio-GPS combination by ZENEC, model ZE-NC620D, linked with rear view camera
Truma Duo Control CS with automatic changeover and EisEx
Second living area battery (Varta 95 Ah AGM)
2x 100Watt solarpanels
The major advantage with this configuration is that the motorhome, all options included, has a running order weight of only 2880 kilograms!
The delivery date was set to somewhere in March 2013.
We agreed to hand in our Burstner Aviano i684 as part of the deal. On 14 december 2012 we departed from our Aviano, which was a source of happy memories.
Bijkomende info aangaande de Hymer Exsis modellen (bron = hymer.com):

1) GENERAL
Maximum flexibility and comfort are a must when it comes to motorhoming. The HYMER Exsis-i combines both in an exception- ally elegant form. These slimline vehicles weigh in at well below three tons unladen – and that includes their extensive standard outfit. Even with a full complement of passengers and a hefty payload, they remain well within the 3.5-ton limit. The Exsis-i is regarded as a pioneer among integrated motorhomes in terms of lightweight construction.
The model's generous layout and 1.98 metre interior headroom are belied by its compact exterior. Such compactness, together with an optimally positioned wheelbase, makes for excellent manoeuvrability. And that goes for any time of year: with its fully foamed PUAL body shell, GRP floor and thermally insulated and heated plumbing, the Exsis-i is armed for all weathers.
On the outside the Exsis-i is only 2,77 meter high and has a width of 2,22 meter. The compact measurements together with its optimal wheelbase create an exceptional high maneuverability. Not only its excellent driving abilities but also its weight will let you believe that you are driving a regular car. All the different configurations have a operational weight which is less than 3 Tons, despite their extensive number of basic equipment. It ranges from 2.610 kilograms with the Exsis-i 504 until 2.950 kilograms for the Exsis-i 698, all in roadworth (operational) conditions. Even at full capacity (4 persons) and their individual luggage you'll be able to transport all other necessary equipment. Even in the garage you can store as much 250 kilograms of luggage, without crossing the maximum weight of 3,5 Ton. This way you'll avoid the traffic limitions that are valid above these bounderies and permits you maintain your full freedom of movement. The Hymer exsis -i is also an unlimited motorhome concerning the weather conditions. His winterproof body with foamed PUAL walls, foamed GFK bottom together with its isolated, heated installation for pipes, fresh water- and waste watertanks makes it usable in any season and makes it a leader in its category. Thanks to the optimized heat distribution you will enjoy the same comfortable temperature all over the motorhome. Just as efficient and economic is the pleasant interior lighting which is fully created by using modern LED technique. The high quality living ambience of the Exsis-i is created by the royal lounge dinet which, according to the division, can accomodate six persons. Around the large, turnable and slidable table you'll find the turnable pilotseats and a comfortable L-bench, with exception of the Exsis-i 644; this one has a compleet dinette with two benches. As an extra full seat in four models an extra upholstered folding chair is located next to the entrance door which offers, when it is fully folded, free passage to the cabin. In the back of the motorhome there is a choice of different type of bed: parallel placed one person beds, two persons crossed placed bed of a big queensbed, this last one can be found in model i698. Every model has an extra 1,50 meter wide pulldown bed in the cabin. The models i504, i674 and i614 contain a vario premium bathroom which can be easily converted from a bathroom/toilet into a waterproof shower room and visa versa. The shower has two drains so that, even when the motorhome isn't positioned fully horizontally or vertically, the water can always find a way out. These kind of high worthy details are typical for the Hymer Exsis-i series. Convince yourself and discover this lightweight motorhomes!
Exsis-i 504 : sleepcomfort for 3 persons

Exsis-i 578: with comfortable one-personbeds


Exsis-i 614: with cross placed bed and extra seat

Exsis-i 644: sleepcomfort for 6 persons and a dinette

Exsis-i 674: with one-personbeds and a large wardrobe

Exsis-i 678: with extra large comfort bathroom

Exsis-i 698: with on 3 sides accessible queensbed

2) Some other features:
Personal equipment freedom is one of the great features of the Exsis-i series. Whether you choose the compact division of the Exsis-i 578, the extensive division of the Exsis-i 674 or for the spacious Exsis-i 698. The final comfort level is a personal choice.
The elegant exterior of smooth aluminum radiates in noble Carrara white varnishing. Inside, five attractive upholstery designs and three textile-leather upholstery combination are at your choosing to give the interior a personal touch.
Of course you have the possibility to further personalize the Hymer Exsis-i series with numerous options. Experience the grand comfort that this slender four person vehicle kan offer you!
Tailor-made undercarriage:
The specially developed AL-KO lightweight frame with independent suspension forms the perfect basis for the motorhome body. Its optimally positioned wheelbase ensures equal weight distribution, even when the vehicle is fully loaded.
The floor conceals the fresh water (A) and grey water tank (B) in insulated trays (C), which
have hot air flowing through them (D). All the plumbing and wiring (E) is accommodated in the heated living space, safe from frost. The numerous, optimally distributed hot air outlets guarantee perfect climate control throughout the whole vehicle.
Double-sided garage access
:
The garage comes with full-height doors on both sides of the vehicle as standard. That way, it can be loaded from both sides and luggage remains accessible from the outside at all times.
And with a maximum loading capacity of 350 kilos, what's not to like?
Lasting protection from below
:
The indestructible GRP underbody makes the vehicles practically immune to weather damage. Stone damage, grit and dirt are likewise kept at bay – a solid foundation for the entire
service life of your motorhome.
Thermally insulated cab:
Like the living area, the front of the vehicle is optimally insulated. The double-skin GRP nose section with intermediate PU foam insulation keeps the cold out in the cab area too.
Great view, no thermal bridges:
The high-quality Seitz-S7 framed windows are fitted with acrylic double glazing for optimal
thermal insulation. The powder-coated aluminium frame is particularly lightweight and sturdy and is likewise equipped with an insulating layer to protect against thermal bridging.
Truma Combi 6 heater:
Installed as standard, the 6,000W Truma Combi 6 heater easily maintains a cosy temperature throughout the interior even when it's freezing outside. Its central location under the seating area means that the heat is distributed optimally throughout the vehicle.
Wired for radio and TV:
Loudspeakers in the sleeping and living area, wiring and sockets and a radio aerial are factory-fitted in every vehicle. All you need to do is plug in and play!
Plenty of sockets:
Four 230V and two 12V sockets provide plenty of power for your appliances. The seating area,
bathroom and kitchen have points for 230V appliances, while 12V appliances can be plugged in at the TV point and dashboard.
Ideal organisation
:
Large side kitchen with flexible drawer partitions and extendible worktop in Trentino pear wood furniture finish.
Extra-deep drawers
:
Kitchen outfit featuring deep drawers and standard 3-ring hob with removable grid and knobs for easy cleaning.
Room to spread out:
The worktop can be extended at a stroke to give you more space to put things, thanks to this clever design.
Jumbo or Smart:
The jumbo refrigerator (150 litre) can be supplied on request.
Handy bathroom storage:
Generous bathroom cabinets with plenty of storage space make it easy to keep all your accessories within reach. The shelves are fitted with straps as standard to keep small and fragile items secure while the vehicle is in motion.
Optimal drainage:
All shower trays are equipped with two plug holes in opposite corners. That way the water can flow away quickly and easily even if you're parked on uneven or sloping ground.
Wide reclining surface:
Large twin beds with standard intermediate cushion for extra width at the top end.
A good night's rest:
Comfortable single bed in the Exsis-i 524, also optionally available with bunk bed.
Reader-friendly:
Queen-size bed in the Exsis-i 698 in its daytime and reading position: pushed up close to the wall with upright head end.
Always to hand:
Wardrobes under the twin beds allow ready access to your holiday wear.